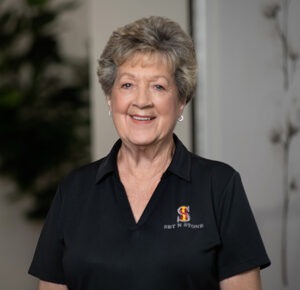 Pamela and Clifford Vernon
Cliff was born in Liverpool, England and immigrated to the United States in 1967 when an engineering corporation sponsored him and his family to move. Cliff holds a Bachelor of Science and Engineering in Industrial Engineering. He held several managerial positions throughout the years and finally retired as a Senior Industrial Engineer at Cooper Tools. Following retirement, Cliff began helping his son & daughter-in-law with "Vernon Monuments" which grew the company. With his detailed vision and expertise, the company expanded to our Ludlow Rd. location and was re-named SET N' STONE.
Pam was born in Liverpool, England and immigrated to the United States in 1967. She spent 25+ years with Fifth Third Bank before she retired as a manager in the Mortgage Loan Department. Pam brings over 30 years of customer service experience to SET N' STONE. With her caring, genuine personality, Pam truly enjoys helping families during the entire process of creating a memorial.
The couple resides in Enon, OH and officially became U.S. citizen in 1976. They have been happily married for over 55 years and raised 3 sons – Carl, David & Darren. Cliff and Pam attend Enon United Methodist Church and are also active members of the International Hospitality Network.
Victoria 'Vernon' LeVan
Victoria is a lifelong resident of Champaign County. She has participated in the Champaign County Fair through 4-H and FFA and enjoyed playing sports throughout her youth and high school years. She graduated from Mechanicsburg High School, class of 2011. Later received a Bachelor of Science in Business Marketing from Franklin University. Victoria is very passionate about assisting families to create unique and beautiful memorials that will celebrate life for generations to come. From designing memorials alongside families, to setting the stones in the cemetery, Victoria enjoys following the memorials from the beginning to the end of production. Victoria married the love of her life Tyler Ray LeVan, in May 2021. They have 2 fur babies Chloe & Cooper.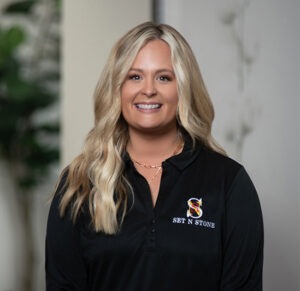 Ted Austin Black
Ted Austin Black was born and raised in Champaign County. From a young age Ted has taken part in his community showing animals at the Champaign County Fair through 4H and FFA. Ted is a 2013 graduate of Mechanicsburg High School. He then attended the University of Northwestern on a baseball scholarship and later graduated from Wilmington College with a Bachelor of Arts in Business Administration. He currently is the operation and sales manager at Black Show Pigs, along with assisting with his family's grain operation at Black Farms. He is the head coach of the Mechanicsburg JH Wrestling program. Ted loves helping others and giving back to his community. He recently just married the love of his life, Sophia Black.
Rachel Stewart
Rachel Stewart was born and raised in Champaign County. From early on, she has always been extremely talented in her artistic abilities. Rachel studied Theology and Ministry Counseling at Indiana Wesleyan University. In her prior years, she has created flash art for tattoo shops and also operated her own photography business. Rachel is extremely talented and utilizes her creative skills to help design memorials for all of our families. In her free time she loves creating digital art, painting, and spending time with her kitties. She is currently engaged to Tristin, who is a local UPD officer.